Image

Keep Fleas and Ticks Out of Your Yard
Locally Owned and Operated
Family and Pet-Friendly Treatments
Flea & Tick Control in The Triad
It's hard to find fleas and ticks unless you know exactly what to look for. These small pests can hide almost anywhere, from tall grasses to fallen leaves. To ensure we target all the fleas and ticks in your yard, we treat your grass, trees, shrubs, and surrounding wood lines.
When you partner with NoMosquitoes.com in the Triad for flea and tick control, we will:
Carefully inspect your property to find where pests are hiding.
Use custom methods that are both safe and effective for worry-free relief.
Complete yard treatments or interior treatments - We can also package interior control with yard services if needed.
Provide eco-friendly alternatives to traditional tick control spray applications, such as tick control boxes.
*It should be noted that our flea and tick services are not included in our mosquito services—rather, they are an add-on.
Save $50 On Your Tick and Flea Lawn Treatment Plan
Get Protection Only A Licensed Pest Company Can Provide
Most landscaping and mosquito-only companies are not actually licensed to perform proper flea and tick removal, which is why they are known to use the same mosquito product and spray the lawn, claiming it will provide relief. But for effective and continued protection, you need to partner with a licensed pest control company that can provide interior and exterior treatments that are specialized to target fleas and ticks. Contact our local Triad experts today!
Protect Your Loved Ones from Fleas and Ticks
Fleas and ticks cause more than irritating bites—they put your entire family at risk for dangerous diseases. Fleas carry pathogens that cause the plague, cat scratch fever, flea-borne typhus, and parasites like tapeworms. Ticks can cause Lyme disease, tularemia, and ehrlichiosis. Even your furry friends are at risk! That might sound scary, but it's easy to achieve the peace of mind you deserve with our flea and tick control. We'll give you an added layer of protection so you can enjoy your time outside.
Save $75 on tick control system installation
Eco-friendly Alternatives With Tick Boxes
If you are looking for alternatives to chemical spray applications, our tick boxes are an effective, minimally-invasive option. These small boxes contain bait and an insecticide. The bait attracts small animals like chipmunks or mice that often carry ticks. As they pass through the box, the animals go under a wick that applies a low-dose insecticide on their head and shoulders. The insecticide is harmless to wildlife but very effective against ticks, helping protect the animals and your loved ones!
Tips to Keep Pests Away
Professional treatment works the best when paired with prevention techniques, which are easy to do on your own. These things help keep ticks and fleas out of your yard to begin with, giving you fewer pests to deal with.
Things you can do include:
Mowing your lawn on a regular basis to prevent tall grass from growing.
Removing leaves, fallen branches, and other debris.
Stacking firewood away from your home in a dry, sunny area.
Picking up items in your yard like trash, old furniture, and toys.
Creating a three-foot barrier with mulch between your grass and the woods.
Image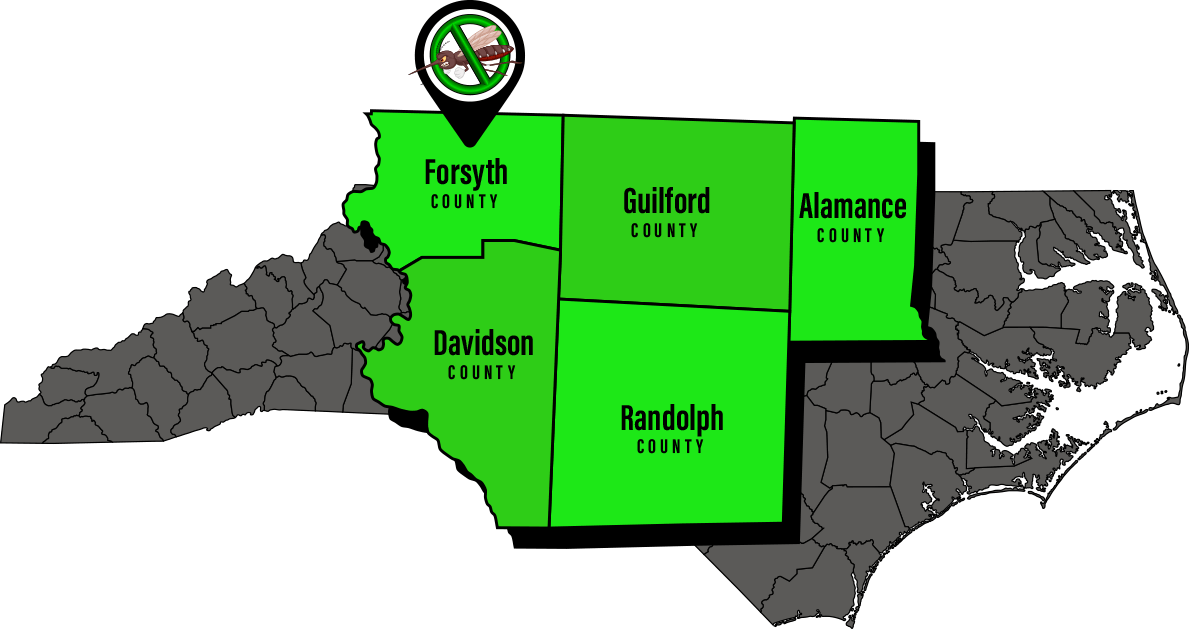 Areas We Service in The Triad
There's nothing we love more than helping our neighbors, and as a locally-owned company, that's what we get to do every day! Check out our service areas and see if we can help you: