Mosquito Control in Greensboro
Join our full-season mosquito control program and say goodbye to mosquito bites and obnoxious pests. NoMosquitoes understands the unique challenges posed by Greensboro's climate, creating a breeding ground for bugs. Trust our experienced exterminators to keep your property pest-free all season long.
When you partner with us, our mosquito experts in Greensboro will: 
Search your property for mosquito hiding places, such as tall grass.
Use products that are safe for your family and pets, ensuring your peace of mind.
Create a protective barrier around your property, which will last for 30 days.
Schedule monthly visits to provide long-term relief from mosquitoes.
Get Your Free Mosquito Treatment
Count On Your Local Experts 
As a locally-owned company, we understand the unique challenges of our climate and offer tailored solutions for your pest control needs.Our team of experienced exterminators has over 34 years of experience in keeping North Carolina's bugs at bay. Contact your local experts today!
Image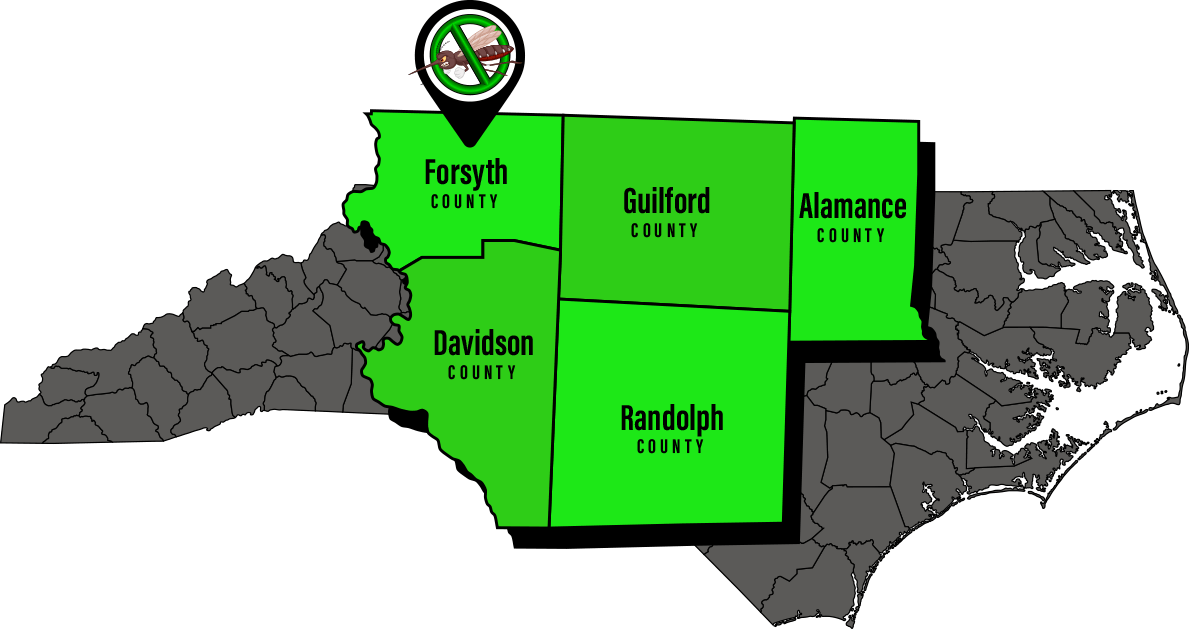 Flea & Tick Control in Greensboro
Are you tired of constantly dealing with tick and flea infestations in Greensboro, NC? Look no further than our comprehensive tick and flea control services. We are dedicated to providing you with worry-free relief from these pesky pests. Unlock the power of a pest-free environment and enjoy the outdoors without worry!
Our flea and tick services in Greensboro include: 
A thorough inspection of your property to locate all the hiding spots of fleas and ticks.
Complete yard treatment not only your grass but also your trees, shrubs, and surrounding wood lines. 
Specialized tick control spray applications that effectively target these dangerous pests. 
A chemical-free approach, with tick boxes that are a minimally invasive and highly effective alternative. 
Licensed Company You Can Trust
Don't settle for mosquito-only or landscaping companies that lack the expertise and licensing required for effective tick and flea control. Partner with a licensed mosquito control company to guarantee proper removal and protection. Trust in our expertise to provide you with a pest-free environment so you can enjoy your time outside. Contact us today to schedule your free inspection and take the first step towards a flea and tick-free yard.