Image

We Make It Easy to Reclaim Your Yard from Mosquitoes
Locally Owned and Operated
Family and Pet-Friendly Treatments
Mosquito Control in The Triad
Store-bought mosquito treatments seem convenient, but they can lead to further frustration. These options don't eliminate mosquitoes at their source, which means insects will just keep coming back. Our professional mosquito control is different! We target existing mosquitoes while stopping new ones from hatching, giving you long-term results instead of temporary relief.
Our mosquito treatment options in the Triad include: 
Full Season Treatments 

Half Season Treatments 

One-Time Treatments
What makes our full-season package the best value is the year-round protection at no extra cost! This means we offer free retreatments in between services if needed, and If the season extends beyond the peak months, you can just call our team to schedule additional free treatments.
Family and Pet-Friendly Relief from Mosquitoes
We're dedicated to giving you relief from mosquitoes while keeping your family and the environment safe. After our eco-friendly treatments are applied and dry, you'll be able to safely spend time in your yard with your friends, kids, and pets. We also avoid spraying flowering plants, vegetable gardens, and areas near wildlife or bees. This doesn't impact your results, but does keep crops and pollinators safe!
Comprehensive Treatments for Lasting Protection
Not only are mosquitoes annoying, but they're also dangerous. These insects can transmit diseases through their bites, putting you at risk for malaria, the west nile virus, and countless other illnesses. With eco-friendly mosquito control options, our services aim to dramatically reduce the mosquito populations in your yard, minimizing your contact with insects and keeping your loved ones protected.
When you partner with us for mosquito control in the Triad, we will:
Identify where mosquitoes are breeding or hiding, like dense vegetation.

Address any questions or concerns you have before treatment begins.

Targeted treatments that eliminate adult mosquitoes, nymphs, and eggs.

Treat up to 1 acre of property at our base pricing.

Create a barrier against mosquitoes that lasts for 30 days.

Schedule recurring treatments to ensure your family stays protected.

Provide free re-treatments between services if needed.
How to Prevent Mosquitoes in Your Yard
There's nothing more reliable than our mosquito control, but there are some simple ways you can keep mosquitoes from taking over your yard. Mosquitoes need water to lay their eggs, so when you remove sources of stagnant water, you remove their breeding areas. That means fewer eggs, fewer mosquitoes, and better protection!
Ways to remove mosquito breeding areas include:
Keeping gutters clear of leaf litter and other debris.

Repair leaky spigots or exterior faucets.

Keep flower pots, wheelbarrows, and containers out of the rain.

Seal trash cans with properly-fitting lids.

Mow your grass regularly to stop it from getting too long.

Regularly change the water in bird baths.

Keep pools covered when not in use.
Trust the Local Experts
As locals in the Triad ourselves, we know how overwhelming the mosquitoes in North Carolina can be. That's why we work extra hard to give you relief! Our team of local exterminators is dedicated to giving you a better quality of life, one without itchy mosquito bites or sticky bug sprays. You can trust that the NoMosquitoes.com team will always go above and beyond for all our customers.
Frequently Asked Questions
Do mosquito services work?
The answer is yes. When a custom mosquito treatment is done by a professional it will kill the existing adult population of mosquitoes on your property and eliminate the larvae.
While no company can guarantee 100% mosquito control or eradication, our treatments are highly effective. You will notice a drastic improvement after the initial treatment and it will continue to improve as the season progresses.
Keep in mind, should an infestation continue after one of our treatments, we will return at no additional cost to retreat under your seasonal package. 
Do you use safe products?
All of our products we use to control mosquitoes on your property are both safe and effective when applied by our trained professions.  
For customers who prefer a "natural product" approach, we do have eco-friendly natural treatments that utilize ingredients such as rosemary oil, peppermint and geraniol .  While these treatments do work, they will break down sooner and require more frequent applications. 
How do mosquito treatments work?
We will treat your property with the most effective products on the market. Our treatments contain adulticides, growth regulators and larvicides as a complete approach to keeping you mosquito free.
The chemical compound we use is called Bifenthrin (part of the Pyrethroid family). Bifenthrin insecticide is a manmade version of pyrethrin, which is derived from chrysanthemum flowers.
Pyrethroids are lethal to mosquitoes plus a few other undesirables like fleas and ticks. Once it dries however (normally 1 hour on a sunny day), the treatment isn't harmful to humans. This combination makes it perfect for mosquito control in a residential environment.
How long do mosquito treatments last?
In most cases, it takes about 30 days before the treatment starts to breakdown. This is why we will always recommend that you have your property treated each month during peak season (April to September).
Is it safe for pets and children?
Yes, we just ask you to keep pets and children out of the treated area for about 1 hour while the treatment dries.
We do ask that before we start a mosquito service that you place your pets inside and remove all pet or children's toys from the lawn. Any pet water or food bowls should be turned over or removed. Our technicians are trained to also keep an eye out for those items.
Is there an extra charge for service outside of peak mosquito season?
If you are on our Full Season package, there will not be any additional charges should weather extend the mosquito season. Just call us in the non-peak month if mosquitoes are still being reported on your property and we will do a full treatment at no charge.
Will rain affect mosquito treatments?
In most cases it will not. Once the product has dried (normally 1 hour on a sunny day), it will bind with the foliage and continue to work until we return for the next scheduled service. Treatments are also applied under the foliage which aid in reducing washout.
If heavy or prolonged rains are expected on the day of your scheduled service, we will hold off the treatment to the next favorable day. If weather does become an issue, keep in mind that our service includes a callback warranty if you still see mosquitoes after any service.
Will this kill bees or flowering bushes?
We treat only the perimeter of the property and foliage. We do not treat the lawn. We never treat flowers, flowering bushes, vegetable gardens or fruit trees. We also verify with any known bee keepers through a partnership with Fieldwatch to minimize exposure to bees.
Image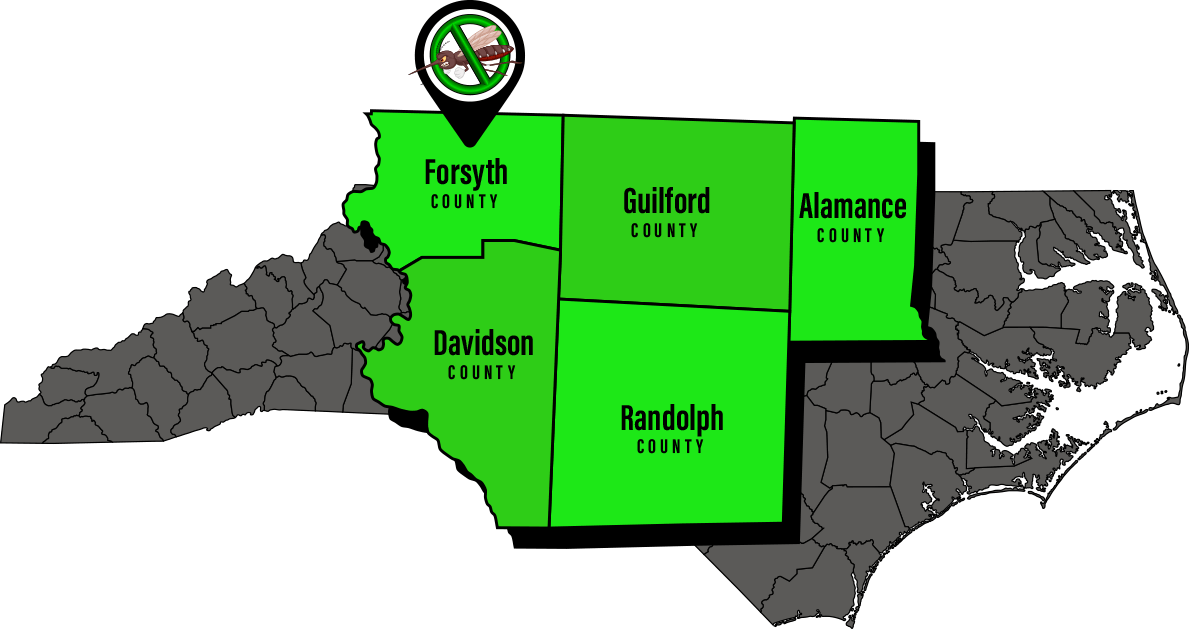 Areas We Service in The Triad
There's nothing we love more than helping our neighbors, and as a locally-owned company, that's what we get to do every day! Check out our service areas and see if we can help you: